Challenge the best with a Wings Etc. Homewrecker Monster Hot Dog this July 4th
Can't compete at the Nathan's Famous hot dog competition? Take the Wings Etc. Wall of Flame Challenge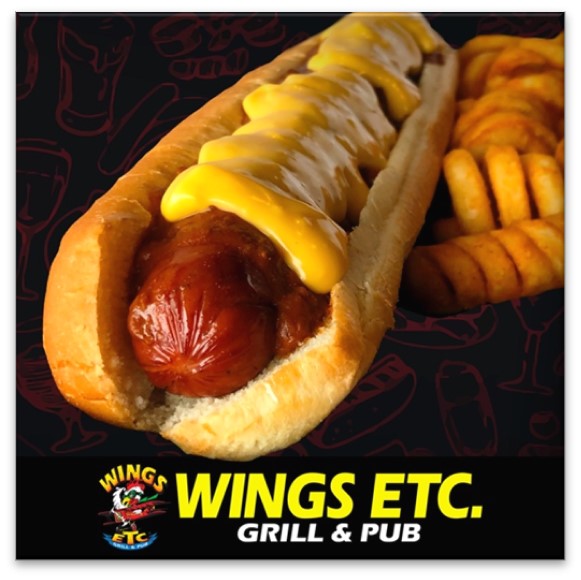 FORT WAYNE, Ind. (June 30, 2021)— Hot dogs are a staple of Fourth of July cookouts, so it's no surprise that the man responsible for making them a big hit in America, Nathan Handwerker, has his very own July 4th hot dog eating competition named after him. But how did Nathan's hot dogs become so famous, and why would anyone want to eat dozens of them within a 10-minute span?
In 1915, Handwerker, a Jewish immigrant looking for success in America, worked for a hot dog stand at Coney Island, where he made just $11 a week. Handwerker lived off the hot dogs and saved his hard-earned cash until he could afford to open his own hot dog stand, at which point Handwerker ran his old boss out of business by selling his hot dogs for half the price. At only 5 cents a dog, Handwerker's franks were a hit. Thus, Nathan's Famous hot dogs were born, and later, an entire contest surrounding the frankfurters.
While the official Nathan's Famous hot dog eating contest has taken place since the 1970s, the brand claims that on July 4, 1916, several patrons indulged in a hot dog eating contest at the original Nathan's location at Coney Island as a way to settle a dispute over who was the most patriotic. Though the story may be somewhat of an urban legend, one thing is true: the hot dog contest has become quite the spectacle to watch on America's birthday.
This year's Nathan's Famous July 4th Hot Dog Eating contest will air on ESPN at noon. Can't make it to the competition? Stop by Wings Etc. to try their famous Homewrecker Monster Hot Dog— an 11-inch, half-pound tube of hot dog wonder and intimidation. Try it naked or with chili cheese and see if you can keep up with Joey Chestnut's record-breaking 2020 score of 75 hot dogs in 10 minutes.
Hot dogs not your thing? Take the Wings Etc. Wall of Flame Challenge and become immortalized on the Wings Etc. legendary "Wall of Flame" by eating 16 traditional wings coated in Wall Sauce.
Celebrate the holiday with "Good Food, Great Times" at your local Wings Etc.
About the Wings Etc. Grill & Pub Franchise Opportunity
Founded in 1994 by Jim Weaver in the South Bend, Indiana area, Wings Etc. is a family-friendly grill and pub with a diverse menu featuring award-winning jumbo Buffalo wings, 22 signature sauces, fresh- never-frozen gourmet burgers, smoked ribs, sandwiches, subs, wraps, salads, kids meals, over 40 domestic and craft beer selections in bottles and on tap, dozens of large HDTVs tuned to the best sports programming, and a casual, non-corporate-y, laid-back "vibe" that makes people want to just come in and hang out. In addition to its popular sports programming, menu and beverage options, Wings Etc. offers kid-friendly, arcade-quality video games, weekday lunch and food specials, online ordering and much more.
Franchising since 2004, Wings Etc. Grill & Pub has been named one of Restaurant Business Magazine's "Future Franchises" for three consecutive years and has also been named one of Franchise Gator's "Top 100 Franchises" for four consecutive years. Wings Etc. continues to grow and succeed by partnering with franchise operators who share the Wings Etc. Vision, Mission and Values, a commitment to building a successful business while helping build stronger communities and people, and to having fun!
Wings Etc. offers single and multiunit franchise options. The initial franchise fee is $39,500, with a $200,000 liquid cash investment, and $500,000 minimum net worth requirement for interested prospects. Wings Etc. offers one of the lowest startup costs and break-even franchise opportunities in the full-service restaurant segment. Priority growth markets include Indiana, Tennessee, Kentucky, Michigan, Missouri, North Carolina, South Carolina, Illinois, Ohio, Alabama and Florida.
For more information about the Wings Etc. franchise opportunity, visit www.wingsetcfranchise.com.
Section: Press Releases