Firefighters battle the heat for charities at Wings Etc. Hartland, MI
Four local fire departments took the Wings Etc. "Wall of Flame Challenge" to help raise nearly $2,000 for their favorite charities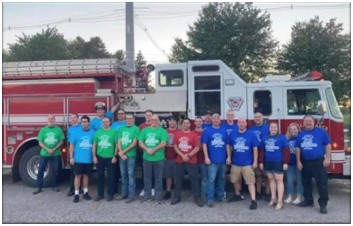 HARTLAND, Mich. (Oct. 7, 2021)—Local firefighters brought the heat to Wings Etc. Hartland during the first annual Wings Etc. Hartland Wall of Flame Charity Challenge on Sept. 29, 2021. Firefighters from Hartland, Highland, Hamburg, and Brighton devoured some of Wings Etc.'s hottest wings to raise money for charities of their choice. At the end of the event, nearly $2,000 was raised with the help of the community.
"It was a big day with great support from the local community, family, and friends," said Wings Etc. Hartland franchise co-owner James Luce. "It was a hot time at Wings Etc. Hartland, but these guys are used to the heat, and they all did great."
The event was the idea of Wings Etc. Hartland franchise co-owner Todd Kirby, who partnered with WHMI 93.5 FM radio and enlisted the help of account executive Lisa Kennedy. Each participating fire department chose a charity that is meaningful to them: The Hartland Fire Department chose Great Lakes Burn Camp, which promotes an emotional healing experience for children injured from burns. The Highland Fire Department chose to raise money for breast cancer research. The Hamburg Fire Department chose Bennett's Beavers, a volunteer wood-working group that makes toys for hospitalized children. The Brighton Fire Department chose the Livingston County First Responders Benevolent Fund, which provides financial assistance to families of police, fire, and first responders who have been injured or killed in the line of duty.
The firefighters were presented with Wings Etc. team shirts created by Roger Burnett of Social Good Promotions and were served 16 wings covered in Wings Etc.'s hottest sauce—"Wall" Sauce. Each team consisted of four firefighters. The first firefighter to finish their wings earned the charity jackpot for their team.
While Highland Fire Department came out the winner of the wing-eating contest, all charities involved received donations thanks to the generosity of the community. In addition to community donations, Wings Etc. Hartland also donated 20 percent of the day's food sales to the winning fire department.
Luce expressed gratitude to the community for supporting the charities and indicated that the Wall of Flame Charity Challenge will become an annual event at Wings Etc. Hartland, which is located at 1788 Old US 23 in Howell, Michigan.
About the Wings Etc. Grill & Pub Franchise Opportunity
Founded in 1994 by Jim Weaver in the South Bend, Indiana, area, Wings Etc. is a family-friendly grill and pub with a diverse menu featuring award-winning jumbo Buffalo wings, over 20 signature sauces and rubs, premium burgers, wraps, salads, appetizers, sandwiches, subs, kids meals, over 40 domestic and craft beer selections in bottles and on tap, dozens of large HDTVs tuned to sports programming, and a casual, non-corporate-y, laid-back "vibe" that makes people want to just come in and hang out. In addition to its popular sports programming, menu, and beverage options, Wings Etc. offers weekday lunch and food specials, online ordering, and much more.
Franchising since 2004, Wings Etc. Grill & Pub has been named one of Restaurant Business Magazine's "Future Franchises," has been named one of Franchise Gator's "Top 100 Franchises" for several years, and was named a 2020 "Culture 100 Best of the Best" franchise by Franchise Business Review. In June 2021, Wings Etc. was named a "Top 200 Food Franchise" and a "Top 500 North American Franchise" by Entrepreneur Magazine. Wings Etc. continues to grow and succeed by partnering with franchise operators who share the Wings Etc. Vision, Mission, and Values, a commitment to building a successful business while helping build stronger communities and people (and to having fun!).
Wings Etc. offers single and multi-unit franchise options. The initial franchise fee is $39,500, with a $200,000 liquid cash investment, and $500,000 minimum net worth requirement for interested prospects. Wings Etc. offers one of the lowest startup costs and break-even franchise opportunities in the full-service restaurant segment. Priority growth markets include Ohio, Tennessee, Kentucky, Michigan, Missouri, North Carolina, South Carolina, Illinois, Pennsylvania, West Virginia, Alabama and Florida.
For more information about the Wings Etc. franchise opportunity, visit www.wingsetcfranchise.com.
Section: Press Releases