From Wings to Rings: Couple Gets Engaged At Wings Etc. Palm Harbor, Florida Location
Palm Harbor, Florida Wings Etc. Grill & Pub server Crista Saemann helps her brother set up a surprise proposal at the locally-owned sports bar.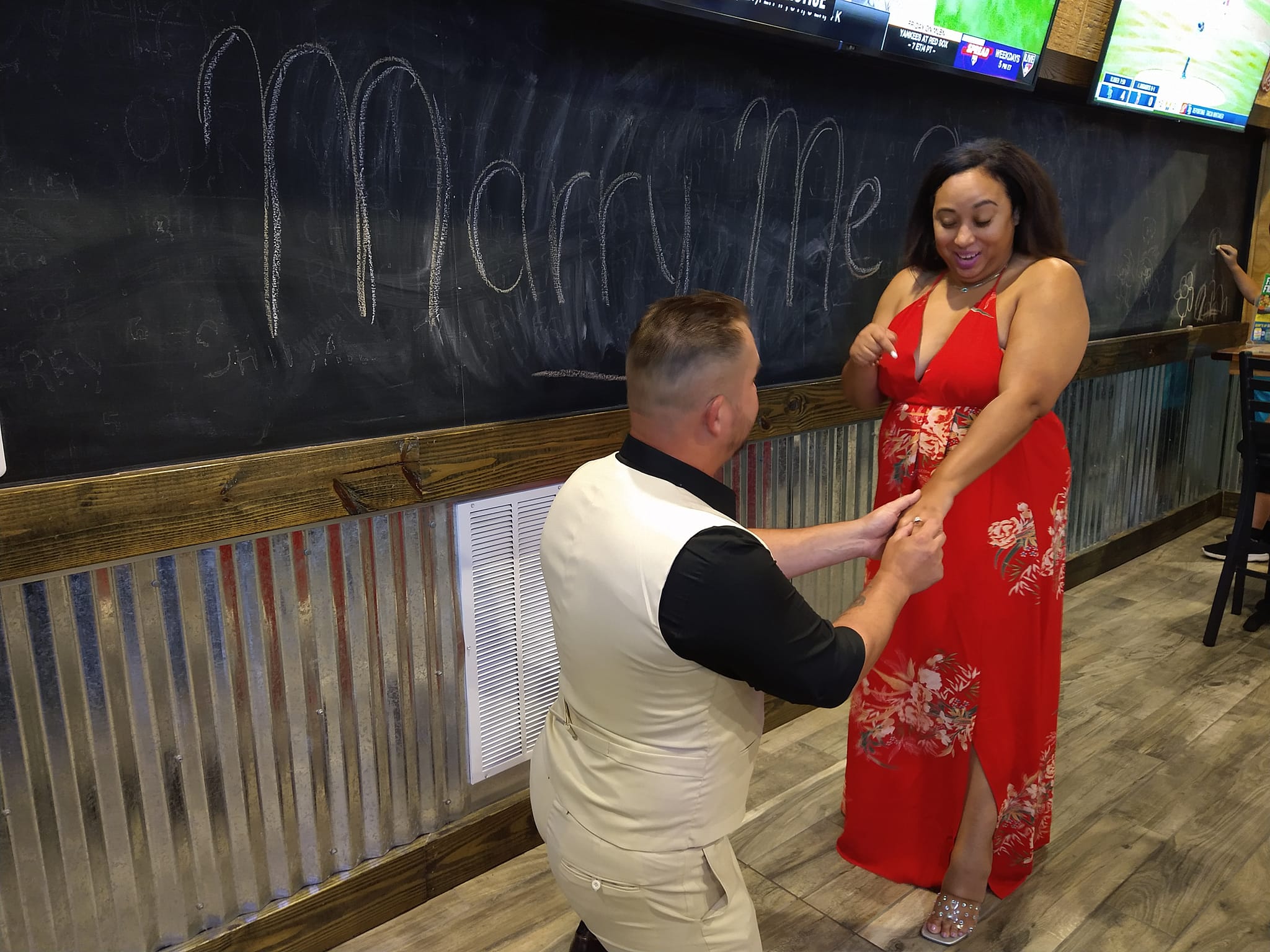 PALM HARBOR, Fla. (Aug. 24, 2022)—Wings Etc. Palm Harbor has only been open for three months but that doesn't mean it isn't already a destination for a romantic night. Recently, Wings Etc. server Crista Saemann helped her brother Jonah Coleman surprise his girlfriend Gwen Washington with a marriage proposal at the Florida grill and pub.
Jonah, who is enlisted in the US Marine Corps, had spent 2021 deployed, but now has been back in the Palm Harbor area for a few months. He wanted to take his opportunity home to propose to his girlfriend, said Saemann.
"Jonah wanted to propose to Gwen and get married, but he wasn't sure how to go about doing it," said Saemann. "I told him to bring her to Wings and that I'd write 'Marry Me?' on our chalkboard as a surprise."
Knowing her brother, Saemann chose an evening when the restaurant was quieter, so Jonah wouldn't be as nervous. Then, on Thursday, July 7, Jonah asked Gwen to get dressed up and told her they were going on a date. He led her to Wings Etc. Palm Harbor, where their friends and family were waiting.
"It was really a great moment," said Saemann. "Gwen was so happy and surprised, and then everyone had a great time celebrating at Wings afterward."
Saemann said seeing her brother pop the question at the restaurant allowed family members to attend and participate in the special moment.
While Saemann was the server on duty that night, she was able to clock out early and enjoy food and drinks with her brother, future sister-in-law, and other friends and family.
Coleman and Washington are planning to get married next spring on the beach.
About the Wings Etc. Grill & Pub Franchise Opportunity
Founded in 1994 by Jim Weaver in the South Bend, Indiana, area, Wings Etc. is a family-friendly grill and pub with a diverse menu featuring award-winning jumbo Buffalo wings, over 20 signature sauces and rubs, premium burgers, wraps, salads, appetizers, sandwiches, subs, kids meals, over 40 domestic and craft beer selections in bottles and on tap, dozens of large HDTVs tuned to sports programming, and a casual, non-corporate-y, laid-back "vibe" that makes people want to just come in and hang out. In addition to its popular sports programming, menu, and beverage options, Wings Etc. offers weekday lunch and food specials, online ordering, and much more.
Franchising since 2004, Wings Etc. Grill & Pub has been named one of Restaurant Business Magazine's "Future Franchises," has been named one of Franchise Gator's "Top 100 Franchises" for several years, and was named a 2020 "Culture 100 Best of the Best" franchise by Franchise Business Review. In June 2021, Wings Etc. was named a "Top 200 Food Franchise" and a "Top 500 North American Franchise" by Entrepreneur Magazine. Wings Etc. continues to grow and succeed by partnering with franchise operators who share the Wings Etc. Vision, Mission, and Values, a commitment to building a successful business while helping build stronger communities and people (and to having fun!).
Wings Etc. offers single and multi-unit franchise options. The initial franchise fee is $39,500, with a $200,000 liquid cash investment, and $500,000 minimum net worth requirement for interested prospects. Wings Etc. offers one of the lowest startup costs and break-even franchise opportunities in the full-service restaurant segment. Priority growth markets include Ohio, Tennessee, Kentucky, Michigan, Missouri, North Carolina, South Carolina, Illinois, Pennsylvania, West Virginia, Alabama and Florida.
For more information about the Wings Etc. franchise opportunity, visit www.wingsetcfranchise.com.
©2022 Wings Etc., Inc. Franchises independently owned and operated.
Section: Press Releases