Hucks celebrate opening of 3rd family-owned Wings Etc. location
Wings Etc. Belpre marks the third Wings Etc. location, and one of many family-owned businesses, for Kristen and Kyle Huck & Missy and Chad Huck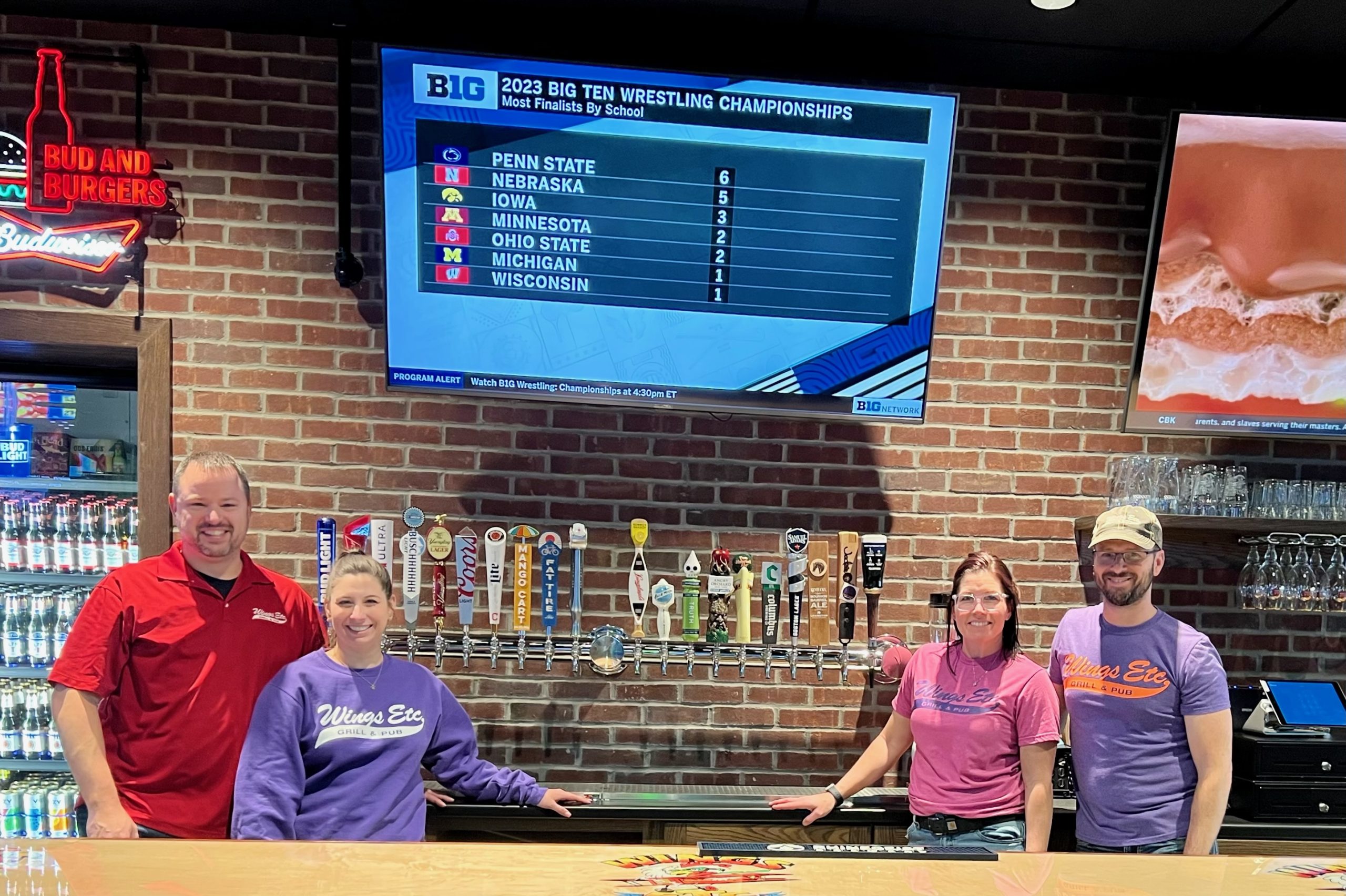 BELPRE, Ohio (March 31, 2023)—With the opening of their third Wings Etc. location earlier this month, co-owners and sisters-in-law Kristen and Missy Huck are celebrating March for many reasons. The pair recently shared their experience as women in business and celebrated the opening of their third Wings Etc. franchise. According to Entrepreneur Magazine, women account for just over 1/3 of all small businesses and franchise ownership in the United States.
"Opening a Belpre location was a no-brainer," said Kristen. "We know the people who developed this shopping center, and we knew it would be great. We wanted to be a part of that. This is a great fit for the area."
Neither Kristen nor Missy are new to running a business. They and their husbands, Kyle and Chad, have been long-time business owners. Kristen and Kyle & Missy and Chad also co-own Wings Etc. locations in Caldwell and Marietta together.
"Getting into the sports bar industry was my husband Kyle's idea," said Kristen. "There wasn't much as far as sit-down restaurants to visit in the Caldwell and Marietta area. We had to drive to Parkersburg, and one day Kyle said he was tired of driving that far and wanted to open something closer."
Wings Etc. made sense to the Huck family as Chad and Kyle were sports fans, and they all enjoyed the food and drink Wings Etc. offered.
While they opened their first Wings Etc. in 2015 in Marietta, it wasn't the first family-owned business the family had been part of.
"One of the reasons Wings was fairly easy for us to run is that we had already done this," said Missy.
Growing up, Missy and her family owned a grocery store. Brothers Kyle and Chad had been part of a family-owned furniture business. And Kristen's family had owned a pharmacy. Today, in addition to Wings Etc., each couple also owns and operates their own pharmacy business.
"We all grew up watching our parents run businesses," said Kristen. "I think it was just what we were supposed to do."
Each one of the Hucks plays a different role in keeping their businesses thriving. Still, Kristen and Missy both explained that it takes a lot of hard work and dedication by each of them to own and successfully operate multiple businesses.
"Sacrifices must be made, and we know that. I think that is what makes us successful," said Kristen. "Every single one of us does what it takes."
"You have to be hands-on to be a successful owner; you have to be 100% invested in what you're doing and believe that you can do it," Missy added. "You also can't be afraid to fail. Failure is how you grow. Things are going to go wrong, but you can learn from that. You get back up, decide how to move forward, and try again."
Section: Expansion New Location Opening Press Releases