Local Restaurant Owners Love Reading to Kids for 'Ag in the Classroom' Program
Joe and Michelle Hobbs see reading to elementary students as an extension of their commitment to being future-minded, community-building local business owners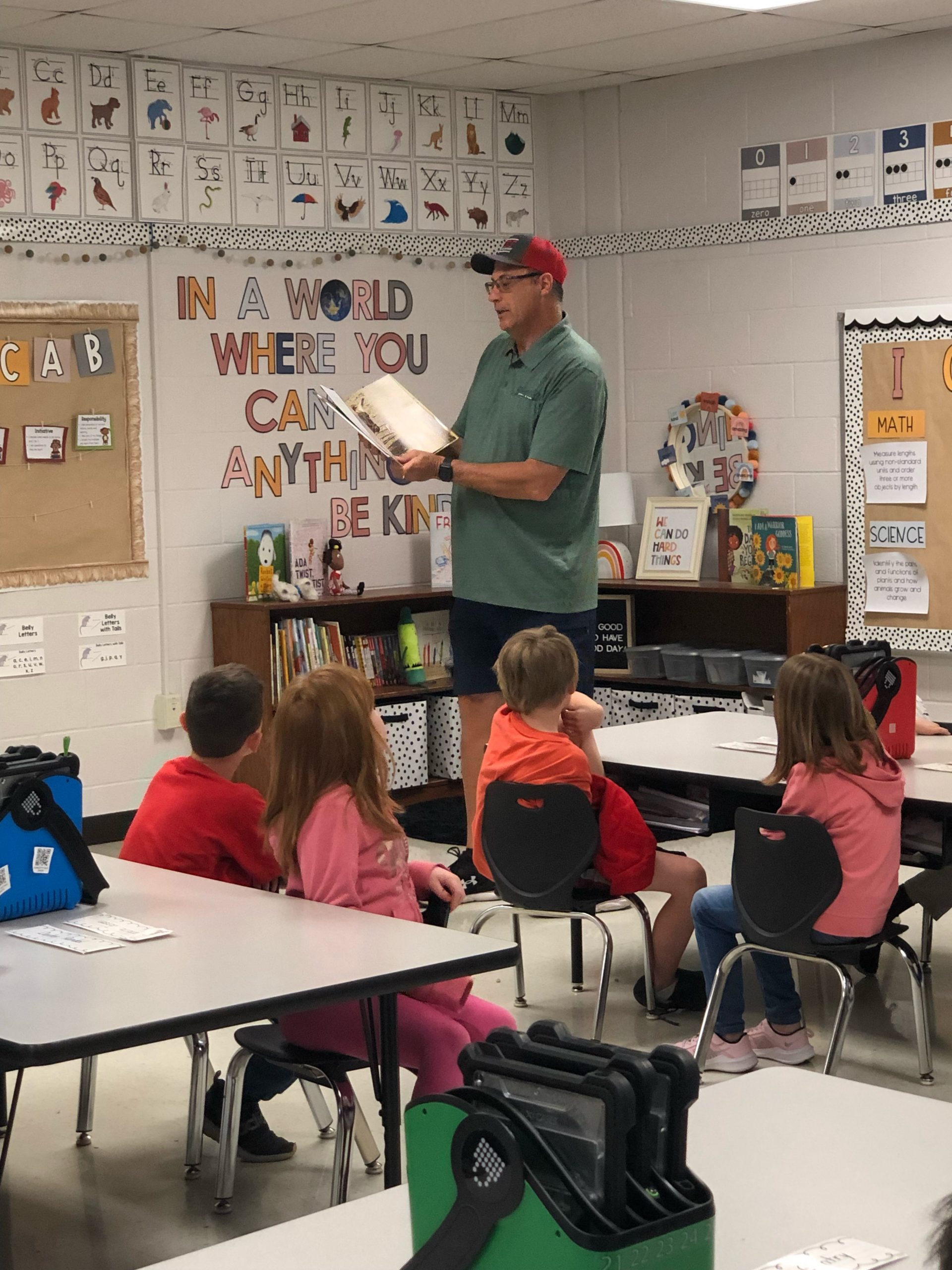 JACKSON, Mo. (April 29, 2022)—When the Missouri Farm Bureau Board initiated an "Ag in the Classroom" school program, local Wings Etc. (Jackson, Cape Girardeau, Dexter) owners Joe and Michelle Hobbs saw an opportunity to help the community "grow," in more ways than one. Recently, the Hobbs read "agriculture accurate" books to 1st and 2nd graders at Millersville Elementary and Orchard Elementary in Jackson to help teach the students the importance of agriculture.
"This is a great opportunity for us to stay informed, lend a hand, and continue to plant roots in our community," said Joe Hobbs. "Plus, I love interacting with the kids because they are just a hoot. The teachers are very supportive of our Ag in the Classroom program, and it also gives them a break while we teach the students."
Joe and Michelle read several agricultural-related books to the local children, including a story about Clarabelle —a dairy cow who lives on a farm in Wisconsin. Each spring, Joe and other members of the Farm Bureau read ag-related books to students, and in the fall, board members step back into the classroom to teach children how to make butter by shaking buttermilk and then enjoying their hard work on a cracker.
Joe, a board member on the Cape Girardeau County – Missouri Farm Bureau Board, said getting in the classrooms allows him and Michelle to help where they are needed. Being a part of local boards also keeps them informed on what is happening in their community. While they often build relationships inside their Wings Etc. locations, volunteering allows them to interact with their neighbors in a different capacity.
"It's important for us to give back to those who support our teams and businesses in Jackson, Cape Girardeau, and Dexter," said Joe. "It's just one of the ways we try to help and say thank you. Of course, it's also nice to see the teachers and students we usually see in our restaurant out in the community."
Joe and Michelle Hobbs own three Wings Etc. Grill & Pub franchises in Southeastern Missouri: Cape Girardeau, Dexter, and Jackson.
-30-
About the Wings Etc. Grill & Pub Franchise Opportunity
Founded in 1994 by Jim Weaver in the South Bend, Indiana, area, Wings Etc. is a family-friendly grill and pub with a diverse menu featuring award-winning jumbo Buffalo wings, over 20 signature sauces and rubs, premium burgers, wraps, salads, appetizers, sandwiches, subs, kids meals, over 40 domestic and craft beer selections in bottles and on tap, dozens of large HDTVs tuned to sports programming, and a casual, non-corporate-y, laid-back "vibe" that makes people want to just come in and hang out. In addition to its popular sports programming, menu, and beverage options, Wings Etc. offers weekday lunch and food specials, online ordering, and much more.
Franchising since 2004, Wings Etc. Grill & Pub has been named one of Restaurant Business Magazine's "Future Franchises," has been named one of Franchise Gator's "Top 100 Franchises" for several years, and was named a 2020 "Culture 100 Best of the Best" franchise by Franchise Business Review. In June 2021, Wings Etc. was named a "Top 200 Food Franchise" and a "Top 500 North American Franchise" by Entrepreneur Magazine. Wings Etc. continues to grow and succeed by partnering with franchise operators who share the Wings Etc. Vision, Mission, and Values, a commitment to building a successful business while helping build stronger communities and people (and to having fun!).
Wings Etc. offers single and multi-unit franchise options. The initial franchise fee is $39,500, with a $200,000 liquid cash investment, and $500,000 minimum net worth requirement for interested prospects. Wings Etc. offers one of the lowest startup costs and break-even franchise opportunities in the full-service restaurant segment. Priority growth markets include Ohio, Tennessee, Kentucky, Michigan, Missouri, North Carolina, South Carolina, Illinois, Pennsylvania, West Virginia, Alabama and Florida.
For more information about the Wings Etc. franchise opportunity, visit www.wingsetcfranchise.com.
©2022 Wings Etc., Inc. Franchises independently owned and operated.
Section: Press Releases