Newly established Wings Etc. Foundation launches $250,000 fundraising initiative with St. Jude Children's Research Hospital
Established in 2023, The Wings Etc. Foundation began its first major fundraising initiative: a 14-month campaign to raise $250,000 for St. Jude Children's Research Hospital through local donation drives at all 79 Wings Etc. Grill & Pub locations.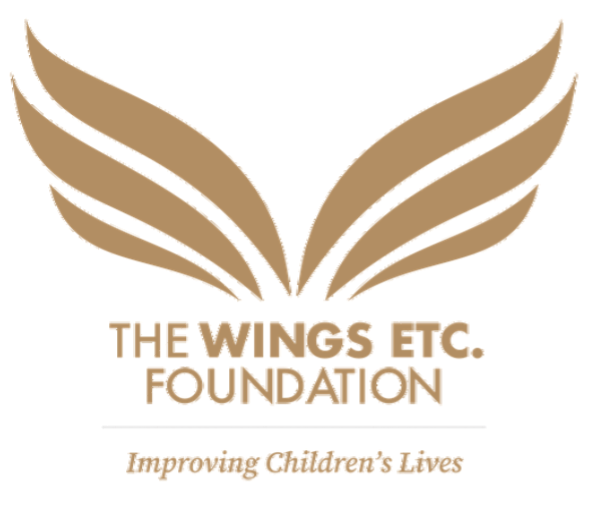 FORT WAYNE, Ind. (Sept. 27, 2023)—In July, Wings Etc., Inc. and its affiliated companies announced the establishment of The Wings Etc. Foundation, a non-profit 501(c)(3) charitable organization with the mission of "improving children's lives." The first initiative of the Foundation is a partnership with St. Jude Children's Research Hospital, with goal of raising $250,000 in 14 months. The Wings Etc. Foundation fundraiser with St. Jude began with Wings Etc. company-owned locations in mid-Summer and expanded to all 79 Wings Etc. Grill & Pub locations on Sept. 26, 2023. The campaign includes in-store messaging in entryways, on tabletops, on closed-circuit TV screens and on guest checks, and outbound messaging through Wings Etc. Grill & Pub email list members and social media followers.
"Winning, Integrity, Non-Judgement, Giving Back, and Serving are the basic values that the team at Wings Etc. follow in everything we do," said Wings Etc. Chief Procurement Officer and President of The Wings Etc. Foundation Eric Stuczynski. "'Giving Back' has been in our company DNA since Jim Weaver founded Wings Etc. in 1994. We believe we have a responsibility to make a difference in the communities we serve, and that belief was the catalyst for establishing The Wings Etc. Foundation."
Guests who dine at Wings Etc. can "round up" their check at time of payment or scan a tabletop QR code to make a secure online donation directly via the St. Jude Children's Research Hospital website. Guests can also visit www.wingsetcfoundation.com to make one-time or monthly donations, all of which will be directed to the St. Jude fundraiser through August 2024.
To learn more about The Wings Etc. Foundation or to make a charitable donation, visit www.wingsetcfoundation.com.
About St. Jude Children's Research Hospital®
St. Jude Children's Research Hospital is leading the way the world understands, treats and defeats childhood cancer and other life-threatening diseases. Its purpose is clear: Finding cures. Saving children.®
It is the only National Cancer Institute-designated Comprehensive Cancer Center devoted solely to children. Treatments invented at St. Jude have helped push the overall childhood cancer survival rate from 20% to more than 80% since the hospital opened in 1962. St. Jude won't stop until no child dies from cancer.
St. Jude shares the breakthroughs it makes, and every child saved at St. Jude means doctors and scientists worldwide can use that knowledge to save thousands more children. Because of generous donors, families never receive a bill from St. Jude for treatment, travel, housing or food, so they can focus on helping their child live.
Visit St. Jude Inspire to discover powerful St. Jude stories of hope, strength, love and kindness. Join the St. Jude mission by visiting stjude.org, liking St. Jude on Facebook, following St. Jude on Twitter, Instagram, LinkedIn and TikTok, and subscribing to its YouTube channel.
About the Wings Etc. Grill & Pub Franchise Opportunity
Founded in 1994 by Jim Weaver in the South Bend, Indiana, area, Wings Etc. is a family-friendly grill and pub with a diverse menu featuring award-winning jumbo Buffalo wings, 18 signature sauces and rubs, premium burgers, wraps, chicken sandwiches, salads, appetizers, kids meals, over 40 domestic and craft beer selections in bottles and on tap, dozens of large HDTVs tuned to sports programming, and a casual, non-corporate-y, laid-back "vibe" that makes people want to just come in and hang out. In addition to its popular sports programming, menu, and beverage options, Wings Etc. offers weekday lunch and food specials, online ordering, and much more.
Franchising since 2004, Wings Etc. Grill & Pub has been named one of Franchise Business Review's "Top Food Franchises" every year since 2020 and has been named one of Franchise Gator's "Top 100 Franchises" six times since 2014. In 2022, Wings Etc. was named a "Top 200 Food Franchise" and a "Top Sports Bar/Pub" by Entrepreneur Magazine and was named a 2023 "Top 500 Franchise" by Nation's Restaurant News. Wings Etc. continues to grow and succeed by partnering with franchise operators who share the Wings Etc. Vision, Mission, and Values, a commitment to building a successful business while helping build stronger communities and people (and to having fun!).
Wings Etc. offers single and multi-unit franchise options. The initial franchise fee is $39,500, with a $350,000 liquid cash investment, and $700,000 minimum net worth requirement for interested prospects. Wings Etc. offers one of the lowest startup costs and break-even franchise opportunities in the full-service restaurant segment. Priority growth markets include Ohio, Tennessee, Kentucky, Michigan, Missouri, North Carolina, South Carolina, Illinois, Pennsylvania, West Virginia, Alabama and Florida.
For more information about the Wings Etc. franchise opportunity, visit www.wingsetcfranchise.com.
©2023 Wings Etc., Inc. Franchises independently owned and operated.
Section: Press Releases