Wings Etc. Bass Boat Sweepstakes celebrates the fun and traditions of the Great American Outdoors
Now through May 11, eligible Wings Etc. fans can enter to win a Bass Tracker® Classic XL Package (Boat, Motor, and Trailer) in the 2023 Wings Etc. Bass Boat Sweepstakes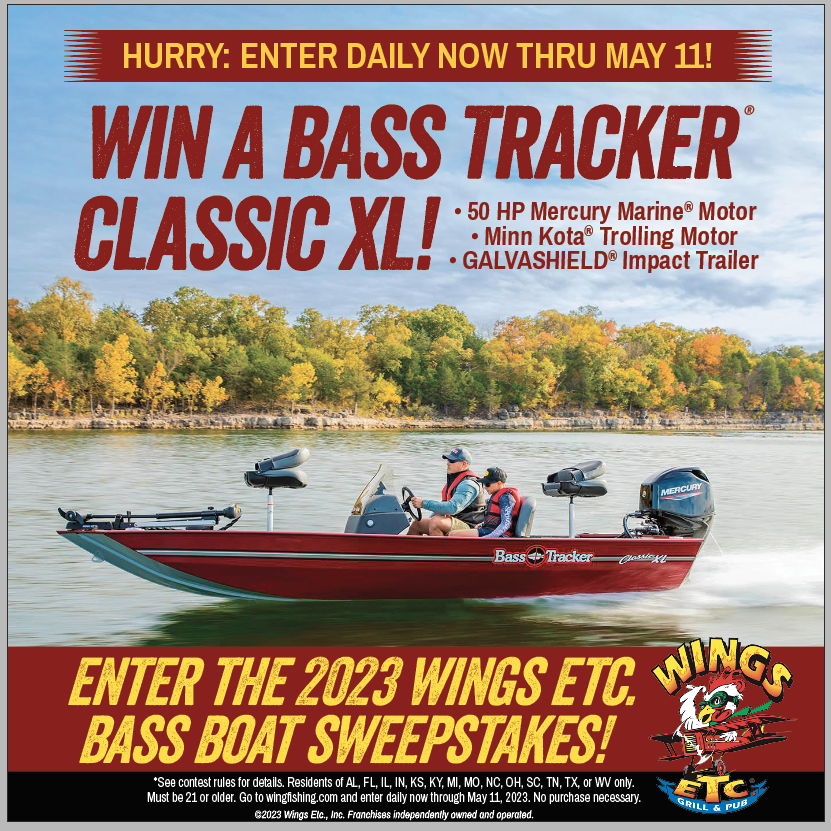 FORT WAYNE, Ind. (April 17, 2023)—As part of its continuing celebration of the "Great American Outdoors," Wings Etc. Grill & Pub has announced its "2023 Wings Etc. Bass Boat Sweepstakes." From April 17 through May 11, people 21 and older with legal residence in a state in which a Wings Etc. Grill & Pub operates can enter for a chance to win a 2023 Bass Tracker® Classic XL Bass Boat package.* Eligible persons can enter once daily through the sweepstakes period at wingfishing.com.
"At Wings Etc., we've always been about having fun, and, like so many of our customers, part of our fun involves fishing, hunting, boating, camping and enjoying the great outdoors," said Rob Hensmann, Wings Etc., Inc. CEO. "This Spring, Summer, and Fall, we're creating excitement for these outdoor activities, and we feel like a Bass Boat Sweepstakes is a great way to kick things off."
Wings Etc. will also be giving away a Tracker Offroad® ATV later this year, and, through the summer months and into Fall, giving away free food on certain days when a guest walks in and shows their valid 2023 fishing license, valid 2023 camping or state park pass or valid 2023 hunting license. None of the sweepstakes or food giveaways will require any purchase.
The 2023 Wings Etc. Bass Boat Sweepstakes prize, a Bass Tracker® Classic XL, is a fully equipped boat, motor, and trailer package: a 16' 8" all-welded aluminum boat equipped with a 50 ELPT Four Stroke Mercury® outboard motor, a Minn Kota® trolling motor, a Lowrance® color fish finder, and a custom-matched Galvashield® impact trailer.
"This is the sort of sweepstakes prize that can change someone's life," said Hensmann. "It's a way for us to celebrate our mutual appreciation for the great outdoors, and to remind our guests of all the ways in which Wings Etc. supports their traditions."
*The 2023 Wings Etc. Bass Boat Sweepstakes starts on April 17, 2023, and continues until May 11, 2023, with the drawing of a randomly-selected winner taking place on May 12, 2023. The sweepstakes is open to persons 21 and older with permanent legal residence in Alabama, Florida, Illinois, Indiana, Kansas, Kentucky, Missouri, Michigan, North Carolina, South Carolina, Ohio, Tennessee, Texas, or West Virginia only. No purchase necessary. Official sweepstakes rules and details are available at wingfishing.com.
Section: Press Releases