Wings Etc. celebrates hunting season with a sweet treat for hunters on Oct. 13
Select Wings Etc. locations are giving away a free dessert to guests who present a valid 2023 hunting license and a photo ID on Oct. 13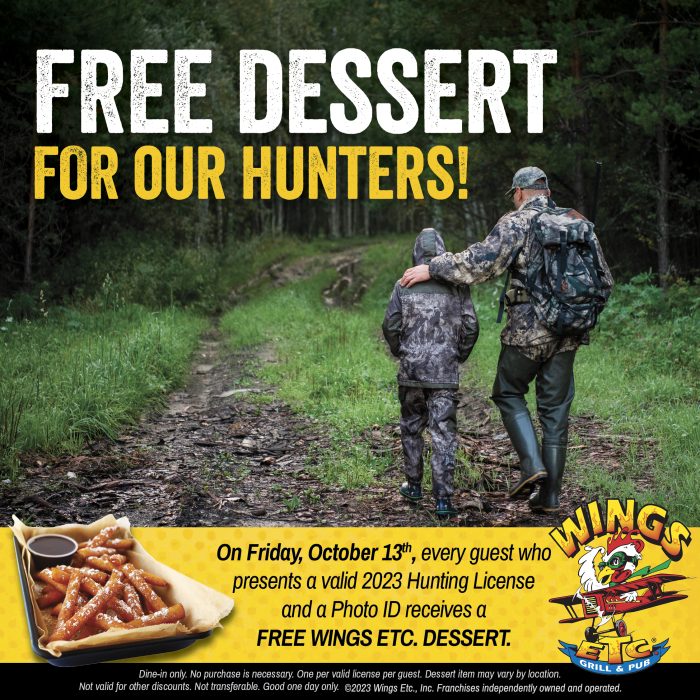 FORT WAYNE, Ind. (Oct. 10, 2023)—On Friday, Oct. 13, participating Wings Etc. Grill & Pub locations will celebrate the hunting season with a free dessert for hunters when they present a valid 2023 hunting license and a photo ID. The offer aims to celebrate some of Wings Etc.'s biggest fans and say "thank you" for their passion and dedication.
"At Wings Etc., we deeply value the bond we share with our hunting community," said Wings Etc., Inc., CEO Rob Hensmann. "We understand the commitment and patience it takes to be a hunter, and we want to show our gratitude by offering them a sweet treat. This promotion is our way of saying 'thank you' and appreciating their passion for the great outdoors."
This special offer is only available on Oct. 13, 2023, at participating Wings Etc. locations. Guests are encouraged to check with their local Wings Etc. restaurant for more details and availability.
The free dessert giveaway for hunters comes after a successful free dessert day for Wings Etc.'s fishing buddies in May and a free dessert day for state park goers in July.
*Dine-in only. No purchase is necessary. One per valid pass per guest. Dessert item may vary by location. Not valid with other discounts. Not transferable. Good one day only. Valid at participating locations.
Section: Press Releases