Wings Etc. executives raise money and run for St. Jude Children's Research Hospital
Wings Etc. COO Chuck Moore and CEO Rob Hensmann ran the St. Jude Rock 'n' Roll Running Series race in April, raising nearly $5,000 together for St. Jude Children's Research Hospital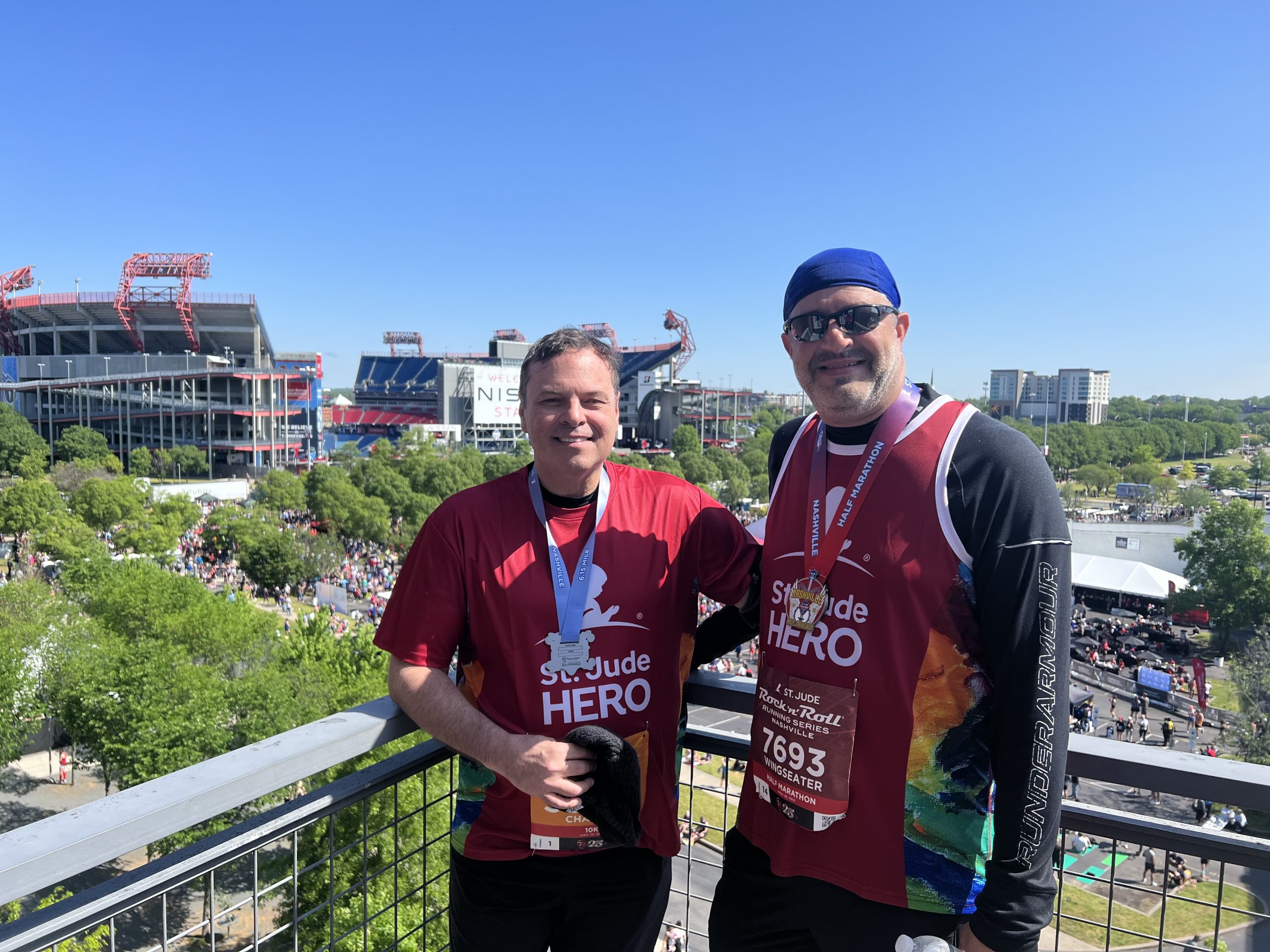 FORT WAYNE, Ind. (May 19, 2023)— For nearly two decades, Wings Etc. Chief Operations Officer Chuck Moore has been raising money and running races for St. Jude Children's Research Hospital as part of the Heroes program. Moore estimates that he has run at least 15 races—a mix between marathons, half marathons, and 10Ks—and has pledged anywhere from $2,000-$5,000 a race. In his most recent race—the April 22, 2023, Rock 'n' Roll Running Series race in Nashville—Moore raised $1,600 to help St. Jude. While the races provide Moore with a sense of euphoria, his passion for giving is personal.
"I was in middle school when my younger sister was diagnosed with Leukemia," Moore noted. "She had a rare form called AML and spent years fighting it."
Kristy, his sister, had spent a lot of time between Riley Hospital for Children and St. Jude receiving care. After a lengthy battle with the disease, she made the call to stop treatment. She passed away in 1981 at 10 years old.
"I wanted to find a way to honor her, and St. Jude has always been very open and welcoming," said Moore. "It doesn't matter what your donation amount is—any participation—they treat you very well."
Moore began racing in the early 2000s as part of the St. Jude Heroes program, which allows people to raise money for a race or donate on behalf of a race participant. When a participant signs up, they pledge to raise a specified amount and commit to fulfilling that pledge if they cannot reach it in donations.
"I've been at Wings Etc. for 10 years, and each year co-workers would help and contribute to my cause," noted Moore. "Then, one year, Rob (Hensmann) started to ask more about it."
In 2019, Chief Executive Officer Rob Hensmann and Vice President of Real Estate and Construction Dan Brekke began joining Moore in Nashville for the St. Jude Rock 'n' Roll Running Series. The goal was for them to work together to raise more money for the children's hospital, and it has evolved into an annual trip for the trio each April.
Over the years, Moore went from running full marathons to half marathons and now runs the 10K race. At the most recent St. Jude Rock 'n' Roll Nashville race, Moore ran a 10K while Hensmann did the half marathon, and Brekke cheered the pair on. This year, Moore raised $1,600 for St. Jude, and Hensmann raised $3,000.
"We do this every year because it's something we love to be part of," said Moore. "Even though my race times are declining as I get older, there is something about the euphoria of lining up for a race in a corral with so many people, but there's also a lot of euphoria in raising money for a worthy cause. It's a commitment I made to help. My sister made a big sacrifice in her life, and it's the least I can do."
Next year, Moore plans to raise $3,000 at the April 27-28, 2024, St. Jude Rock 'n' Roll Running Series race in Nashville.
Section: Press Releases