Wings Etc. Huntington, Wabash, & Warsaw raising money for local cancer organizations throughout October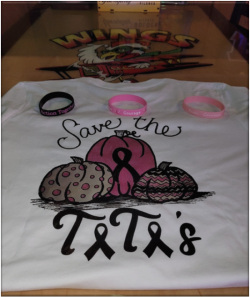 On Thursday, Oct. 21, 2021, 15 percent of all food and non-alcoholic drink sales at Wings Etc. Huntington, Wabash, & Warsaw, Ind., will benefit three local cancer organizations
HUNTINGTON, WABASH, & WARSAW, Ind. (Oct. 20, 2021)—Throughout the month of October, Wings Etc. locations in Huntington, Wabash, and Warsaw, Ind., will raise money through donations for local cancer organizations in their communities. On Thursday, Oct. 21, 2021, all three locations will also host a Dine to Donate fundraiser where 15 percent of all food and non-alcoholic drink sales at the three locations will be equally divided and donated to organizations that assist cancer patients with expenses. The three local Wings Etc. locations are owned by the Burcroff family, who personally know the need for support that cancer patients have.
Wings Etc. Huntington, Wabash, and Warsaw franchisees Bryan and April Burcroff were shocked when April was diagnosed with breast cancer in 2020 after previously battling cancer two times prior.
"April Burcroff is a huge inspiration to our family and our stores for not only beating cancer once but three times," said Bailey Burcroff, Warsaw manager and youngest daughter of the Burcroffs.
Bailey noted that April's strength and courage inspired a team member at the Huntington store to reach out to her and ask how they can help raise awareness and money for cancer-related expenses. In October 2020, the three stores held their first fundraiser and raised $2,500. This year, Bailey hopes to double that amount.
To help meet their goals, the three locations are accepting donations until the end of October. For a $20 donation, guests will be offered a breast cancer awareness t-shirt. Those donating any amount up to $20 will receive an awareness bracelet.
On Thursday, Oct. 21, from 11 a.m. to 10 p.m., each store will host a Dine to Donate fundraiser and a raffle. The prizes will include gift cards, merchandise from local stores, and a 50/50 raffle. Guests do not need to be present to win.
At the end of the month, the money raised from all three locations will be divided equally and donated to specific cancer organizations in each store's community including Kosciusko County Cancer Care Fund, The Wabash County Cancer Society, and Cancer Services of Huntington, all of which provide financial assistance to those battling cancer.
"We are so grateful to have a team and community that is so generous and wants to support our fundraiser," said Bailey. "We hold this fundraiser annually as a way to lessen the burden for those who are already going through a tough journey, and we really appreciate everyone who is willing to help."
About the Wings Etc. Grill & Pub Franchise Opportunity
Founded in 1994 by Jim Weaver in the South Bend, Indiana, area, Wings Etc. is a family-friendly grill and pub with a diverse menu featuring award-winning jumbo Buffalo wings, over 20 signature sauces and rubs, premium burgers, wraps, salads, appetizers, sandwiches, subs, kids meals, over 40 domestic and craft beer selections in bottles and on tap, dozens of large HDTVs tuned to sports programming, and a casual, non-corporate-y, laid-back "vibe" that makes people want to just come in and hang out. In addition to its popular sports programming, menu, and beverage options, Wings Etc. offers weekday lunch and food specials, online ordering, and much more.
Franchising since 2004, Wings Etc. Grill & Pub has been named one of Restaurant Business Magazine's "Future Franchises," has been named one of Franchise Gator's "Top 100 Franchises" for several years, and was named a 2020 "Culture 100 Best of the Best" franchise by Franchise Business Review. In June 2021, Wings Etc. was named a "Top 200 Food Franchise" and a "Top 500 North American Franchise" by Entrepreneur Magazine. Wings Etc. continues to grow and succeed by partnering with franchise operators who share the Wings Etc. Vision, Mission, and Values, a commitment to building a successful business while helping build stronger communities and people (and to having fun!).
Wings Etc. offers single and multi-unit franchise options. The initial franchise fee is $39,500, with a $200,000 liquid cash investment, and $500,000 minimum net worth requirement for interested prospects. Wings Etc. offers one of the lowest startup costs and break-even franchise opportunities in the full-service restaurant segment. Priority growth markets include Ohio, Tennessee, Kentucky, Michigan, Missouri, North Carolina, South Carolina, Illinois, Pennsylvania, West Virginia, Alabama and Florida.
For more information about the Wings Etc. franchise opportunity, visit www.wingsetcfranchise.com.
Section: Press Releases