Wings Etc. lends a helping paw to local animal rescue with Dine to Donate event set for Oct. 17
Wings Etc. Decatur is partnering with PAWS of Adams County to raise much-needed funds for local rescue animals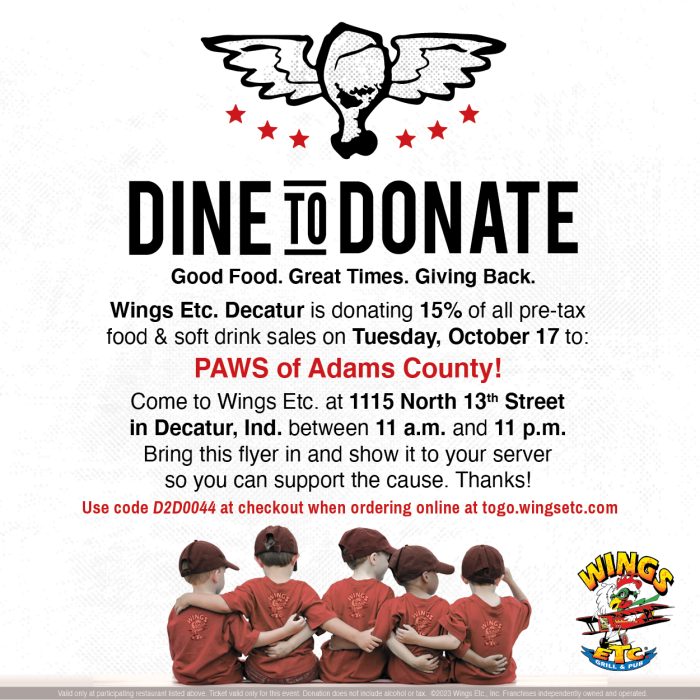 DECATUR, Ind. (Oct. 6, 2023)—On Oct. 17 from 11 a.m. to 11 p.m., animal lovers are invited to Wings Etc. Decatur where 15% of eligible food and soft drink sales will be donated to PAWS of Adams County, a local foster-based animal rescue, when guests present a flyer for the event. Patty Daniels, board member for PAWS of Adams County, said community support like the Wings Etc. Decatur Dine to Donate event is vital in helping fund their rescue efforts.
"We are so grateful to partner with Wings Etc., and we always appreciate community-oriented events like this," said Daniels. "We are 100% donor supported, meaning we rely completely on fundraisers, donations, and our adoption fees to operate."
PAWS also relies on fosters to house found and surrendered cats and dogs. Thanks to donations, PAWS is able to provide fosters with the food and care animals will need for the duration of their stay.
"Like many rescues, we have been overwhelmed with animals," said Daniels. "Our biggest need right now is fosters. The openings in foster homes regulate how many animals we can take in."
Daniels noted that PAWS is on pace to have their biggest year yet in animal intakes.
"This year, we've brought in 122 dogs as of the end of September. In a normal year, we average around 100 for the whole year," said Daniels. "Because we only have one cat foster right now, we've only been able to take in 30 cats. We've had to turn a lot away this year, and cat adoptions seem to be slow."
On the day of the fundraiser, guests can help Wings Etc. Decatur raise money for PAWS of Adams County by showing their bartender or server a physical or digital Dine to Donate flyer. Flyers can be obtained by PAWS. Guests choosing carry-out should use the code D2D0044 at checkout when ordering online at togo.wingsetc.com.
To learn more about fostering for PAWS, their current needs, and to see available animals, visit www.pawsofadamscounty.com.
Section: Press Releases