Wings Etc. Rochester to hold fundraiser for employee diagnosed with kidney cancer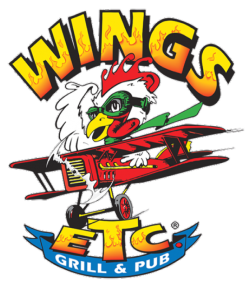 On March 10, 2022, from 11 a.m. to 11 p.m., 20% of all food and non-alcoholic drink sales at Wings Etc. Rochester will be donated to Wings Etc. cook Nic Helm, who was recently diagnosed with kidney cancer
ROCHESTER, Ind. (March 3, 2022)—When Wings Etc. Rochester cook Nic Helm was diagnosed with kidney cancer recently, General Manager Rebecca Stacy knew she had to find a way to ease the financial burden Helm would soon face. Helm is scheduled to have his kidney removed and will be off work for at least a month recovering. To help with bills while he's off, Wings Etc. Rochester is holding a Dine to Donate event on March 10 from 11 a.m. to 11 p.m., where 20% of all food and soft drink sales will be donated to Helm.
Helm, 32, is a Rochester native and has been with Wings Etc. for nearly a year. Stacy explained that Helm is a dedicated member of the Wings Etc. team and often goes above and beyond at work.
"Nic is a really hard worker and is always giving 110%," said Stacy. "He always helps when needed and is so kind to other people. He puts in so much effort to do a good job, and we wanted to give back to him while he's going through his recovery."
Stacy recently accepted the position of General Manager at the Rochester Wings Etc. and noted that this Dine to Donate will be her first one since taking the job.
"I can't think of a more worthy cause than helping a member of our team," she said. "We want to make sure he doesn't have to worry about paying rent or other bills while he's recovering from surgery."
Stacy said she hopes to raise enough money to pay his rent while he's receiving treatment.
To help Wings Etc. raise money for Helm, guests can visit Wings Etc. Rochester from 11 a.m. to 11 p.m. on Thursday, March 10, 2022, where 20% of all dine-in and carry-out food and non-alcohol sales will be donated to the cause.
Wings Etc. Rochester is located at 390 Rochester Crossing Dr., Rochester, Ind.
About the Wings Etc. Grill & Pub Franchise Opportunity
Founded in 1994 by Jim Weaver in the South Bend, Indiana, area, Wings Etc. is a family-friendly grill and pub with a diverse menu featuring award-winning jumbo Buffalo wings, over 20 signature sauces and rubs, premium burgers, wraps, salads, appetizers, sandwiches, subs, kids meals, over 40 domestic and craft beer selections in bottles and on tap, dozens of large HDTVs tuned to sports programming, and a casual, non-corporate-y, laid-back "vibe" that makes people want to just come in and hang out. In addition to its popular sports programming, menu, and beverage options, Wings Etc. offers weekday lunch and food specials, online ordering, and much more.
Franchising since 2004, Wings Etc. Grill & Pub has been named one of Restaurant Business Magazine's "Future Franchises," has been named one of Franchise Gator's "Top 100 Franchises" for several years, and was named a 2020 "Culture 100 Best of the Best" franchise by Franchise Business Review. In June 2021, Wings Etc. was named a "Top 200 Food Franchise" and a "Top 500 North American Franchise" by Entrepreneur Magazine. Wings Etc. continues to grow and succeed by partnering with franchise operators who share the Wings Etc. Vision, Mission, and Values, a commitment to building a successful business while helping build stronger communities and people (and to having fun!).
Wings Etc. offers single and multi-unit franchise options. The initial franchise fee is $39,500, with a $200,000 liquid cash investment, and $500,000 minimum net worth requirement for interested prospects. Wings Etc. offers one of the lowest startup costs and break-even franchise opportunities in the full-service restaurant segment. Priority growth markets include Ohio, Tennessee, Kentucky, Michigan, Missouri, North Carolina, South Carolina, Illinois, Pennsylvania, West Virginia, Alabama and Florida. For more information about the Wings Etc. franchise opportunity, visit www.wingsetcfranchise.com.
Section: Press Releases