Wings Etc.'s three Fort Wayne locations introduce new Buffalo Wedge Salad to menu for limited time
The new Buffalo Wedge Salad is available for a limited time at three Fort Wayne Wings Etc. locations only and is part of the popular Wings Etc. Food Fight—facing off against the Big Chicken Salad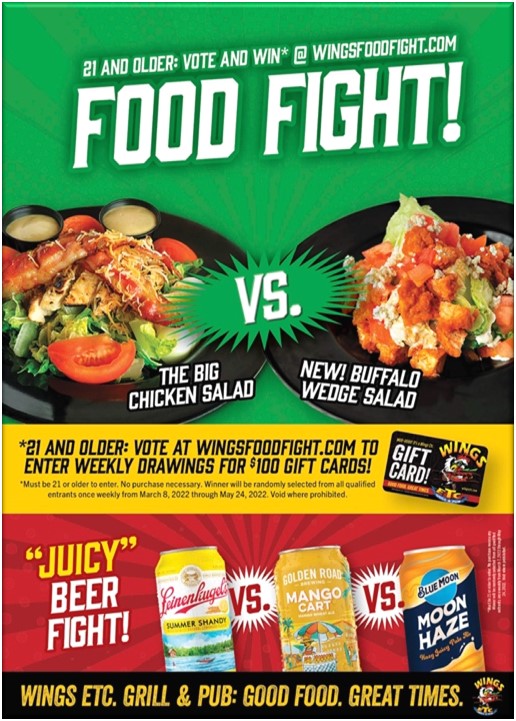 FORT WAYNE, Ind. (March 8, 2022)—Now through May 24, 2022, three Wings Etc. Fort Wayne locations (Bluffton Road, Dupont Road, and Maysville Road) will feature a new Buffalo Wedge Salad on their menu. Guests will be able to give feedback on the new salad through the popular Wings Etc. Food Fight where the Buffalo Wedge Salad will face off against the Big Chicken Salad. Along with the salad face-off is a new "Juicy" Beer Fight, with Leinenkugel's Summer Shandy, Golden Road Brewing's Mango Cart, and Blue Moon's Moon Haze in contention.
Guests age 21 and older can vote for their favorites at wingsfoodfight.com through May 24, 2022. Voting also provides an option to register for a chance to win $100 Wings Etc. Gift Cards in weekly drawings through the campaign dates. So far this year, ten $100 gift card winners have been announced, and this new battle offers another opportunity for guests to choose their favorite Wings Etc. menu items and win.
The Buffalo Wedge Salad features crispy Buffalo chicken, blue cheese, and diced tomatoes piled on an iceberg lettuce wedge and comes served with blue cheese or ranch. Meanwhile, Wings Etc.'s classic Big Chicken Salad features grilled or crispy chicken breast, greens, cheddar-jack cheese, bacon slices, egg, tomato, and choice of dressing.
Leinenkugel's Summer Shandy is a classic warm-weather favorite that features Leinenkugel's traditional Weiss beer with refreshing natural lemonade flavor. Contender Golden Road Brewing's Mango Cart is inspired by the iconic fruit cart vendors of Los Angeles, with a light Wheat Ale bursting with lots of fresh mango flavor and aroma, finishing crisp and refreshing. Another citrus favorite, Blue Moon's Moon Haze is a Hazy Juicy Pale Ale brewed with dried whole oranges to infuse the flavor into the beer, creating a delicious, juicy flavor and bright color.
Who will win? You decide.
To cast a vote in the salad Food Fight and "Juicy" Beer Fight, guests 21 and older (only) must visit wingsfoodfight.com, vote their preferences, and enter for a chance to be a randomly-selected winner in weekly drawings for $100 Wings Etc. Gift Cards. No purchase is necessary. Void where prohibited. See site for details.
Winners will be randomly selected from all qualified entrants once weekly from March 8, 2022, through May 24, 2022.
About the Wings Etc. Grill & Pub Franchise Opportunity
Founded in 1994 by Jim Weaver in the South Bend, Indiana, area, Wings Etc. is a family-friendly grill and pub with a diverse menu featuring award-winning jumbo Buffalo wings, over 20 signature sauces and rubs, premium burgers, wraps, salads, appetizers, sandwiches, subs, kids meals, over 40 domestic and craft beer selections in bottles and on tap, dozens of large HDTVs tuned to sports programming, and a casual, non-corporate-y, laid-back "vibe" that makes people want to just come in and hang out. In addition to its popular sports programming, menu, and beverage options, Wings Etc. offers weekday lunch and food specials, online ordering, and much more.
Franchising since 2004, Wings Etc. Grill & Pub has been named one of Restaurant Business Magazine's "Future Franchises," has been named one of Franchise Gator's "Top 100 Franchises" for several years, and was named a 2020 "Culture 100 Best of the Best" franchise by Franchise Business Review. In June 2021, Wings Etc. was named a "Top 200 Food Franchise" and a "Top 500 North American Franchise" by Entrepreneur Magazine. Wings Etc. continues to grow and succeed by partnering with franchise operators who share the Wings Etc. Vision, Mission, and Values, a commitment to building a successful business while helping build stronger communities and people (and to having fun!).
Wings Etc. offers single and multi-unit franchise options. The initial franchise fee is $39,500, with a $200,000 liquid cash investment, and $500,000 minimum net worth requirement for interested prospects. Wings Etc. offers one of the lowest startup costs and break-even franchise opportunities in the full-service restaurant segment. Priority growth markets include Ohio, Tennessee, Kentucky, Michigan, Missouri, North Carolina, South Carolina, Illinois, Pennsylvania, West Virginia, Alabama and Florida.
For more information about the Wings Etc. franchise opportunity, visit www.wingsetcfranchise.com.
Section: Press Releases