Wings Etc. Serves Breakfast for Dinner in Fall LTO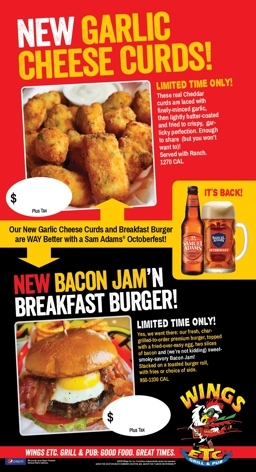 Wings Etc. Grill & Pub will feature a "Breakfast-y" specialty burger, a savory twist on fried cheese, and a multiregional seasonal beer favorite in its Fall 2019 limited-time offer.
FORT WAYNE, Ind., Friday, Aug. 23, 2019 — On Sept. 3, Wings Etc. Grill & Pub locations will introduce a new "Bacon Jam'n Breakfast Burger" as well as crisp-fried Garlic Cheese Curds in a system-wide, limited-time offer. The 71-unit chain will also promote a seasonal specialty beer favorite, Samuel Adams® Octoberfest, as a pairing suggestion
As a limited-time appetizer, the new Garlic Cheese Curds come with high expectations. "People love cheese and all the ways it can be made even more delicious," says Wings Etc. CEO Robert Hensmann. "This version really 'leans in' to the savory garlic flavor. Our Culinary Progress Team sampled them with office staff, and they were unanimously recommended for test. Early results are exciting."
For its center-of-the-plate promotional feature, Wings Etc. will offer the new "Bacon Jam'n Breakfast Burger." Hensmann points to the legacy of burgers topped with fried eggs as the starting point for the recipe. "The 'Better Burger' movement has introduced a lot of ways to put an egg on a burger," says Hensmann. "Our version adds two slices of bacon on the over-easy fried egg, and then 'cranks it up' even more with a new sweet and savory bacon jam that transforms the combined flavors and textures. When all this is added to our fresh, premium chargrilled burger and served on our toasted Brioche roll, it really is a 'Wow" burger experience."
Samuel Adams® Octoberfest, a popular, Fall-focused specialty beer, is the pairing suggestion for both the "Breakfast Burger" and the Garlic Cheese Curds.
In addition to Fall food and drink features, each Wings Etc. location offers a full menu of sports pub favorites, as well as over 40 domestic, import and craft beer options in bottles or on tap.
About the Wings Etc. Grill & Pub Franchise Opportunity
Founded in 1994 by Jim Weaver in the South Bend, Indiana area, Wings Etc. is a family-friendly grill and pub with a diverse menu featuring award-winning jumbo Buffalo wings, 22 signature sauces, fresh- never-frozen gourmet burgers, smoked ribs, sandwiches, subs, wraps, salads, kids meals, over 40 domestic and craft beer selections in bottles and on tap, dozens of large HDTVs tuned to the best sports programming, and a casual, non-corporate-y, laid-back "vibe" that makes people want to just come in and hang out. In addition to its popular sports programming, menu and beverage options, Wings Etc. offers weekday lunch and food specials, drink specials, online ordering and much more.
Franchising since 2004, Wings Etc. Grill & Pub has been named one of Restaurant Business Magazine's "Future Franchises" for three consecutive years and has also been named one of Franchise Gator's "Top 100 Franchises" for four consecutive years. Wings Etc. continues to grow and succeed by partnering with franchise operators who share the Wings Etc. Vision, Mission and Values, a commitment to building a successful business while helping build stronger communities and people (all while having fun!).
Wings Etc. offers single and multiunit franchise options. The initial franchise fee is $39,500, with a $292,847 liquid cash investment, and $500,000 minimum net worth requirement for interested prospects. Wings Etc. offers one of the lowest startup costs and break-even franchise opportunities in the full-service restaurant segment. Priority growth markets include Indiana, Illinois, Ohio, Kentucky, Michigan, Missouri, North Carolina, South Carolina, Florida, Tennessee and Alabama.
For more information about the Wings Etc. franchise opportunity, visit www.wingsetcfranchise.com.
Section: Expansion New Location Opening