Wings Etc. West Lafayette moves to new building, keeps same great food
Wings Etc. West Lafayette is now located at 3536 Genoa Drive, just across the parking lot of its former location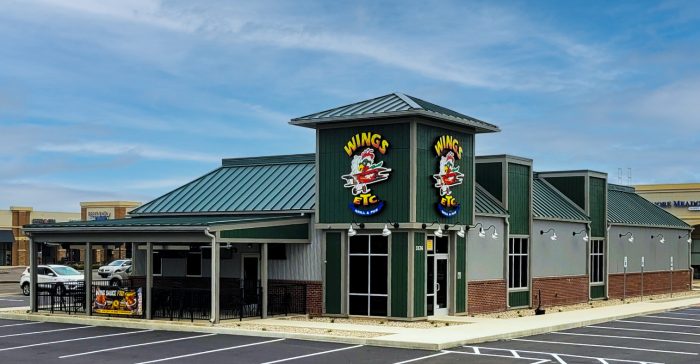 WEST LAFAYETTE, Ind. (April 20, 2023)—The Wings Etc. in West Lafayette re-opened on Tuesday in their new location, which is just a parking lot away from its former spot. The expansion reaffirms Wings Etc.'s commitment to investing in West Lafayette and provides greater amenities, according to Ryan Flickinger, Chief Operating Officer of Wings Etc. Operating Company.
"We love West Lafayette, and it's the whole reason why we reinvested in this community," said Flickinger. "We knew we wanted to continue to be here. It was just time for something fresh and new for Wings Etc."
In addition to a greater seating compacity, the new free-standing building features a more inclusive sports bar atmosphere where guests can see both the bar and the family side, new and additional HDTVs, an updated look, a larger patio area with three HDTVs, heating and a permanent overhead structure to protect from the elements, and a carryout window where guests can pick up their order without entering the building.
The new building also creates more visibility for the location.
"Wings Etc. buildings have a very unique look," said Flickinger. "Being out near the road a bit more with the large logo on our building makes us very visible and very distinguishable."
While Wings Etc. has been in West Lafayette since 2010, Flickinger noted there are always those who come to the location for the first time.
"For our customers who have grown to love us, they know exactly where to find us still, and for those who may not have known we were here, we now have a very visible presence," he noted.
Wings Etc. West Lafayette is one of three locations in the Lafayette area and is located at 3536 Genoa Drive.
Section: Expansion New Location Opening Press Releases